100 days trial & free return
100 days trial & free return
100 days trial & free return
Materials & Production
100% Long-Staple Cotton
Design
Waffle Towel 70cm x 140cm


Care & Use
Machine Wash

Instructions:
- Machine Wash Warm & Tumble Dry Medium
- Avoid Drying on High Heat
- Do Not Bleach
- Do not use dryer sheets or fabric softener to maintain absorbency

(Tips: Mistakes happen. If you do use fabric softener, add a 1/2 cup of white vinegar to your next wash cycle to soften your towels.)
Oeko-Tex® Certification
Customer Reviews
Tyng

Malaysia
I recommend this product
Rosli

Malaysia
I recommend this product
09/06/2021
These towels are perfect!
I bought these waffle towels to replace my very heavy terry towels they absorb water very well and dry quickly. I have had no problem with shrinkage as some other reviewers mentioned. I would highly recommend these if anyone is hesitant to get them. Best decision in a long time!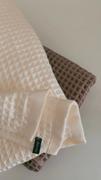 Muhammad T.

Malaysia
I recommend this product
08/16/2021
Totally love it
I already used the towel. I love it so much. The texture are soft and dry fast after use. Maybe i will buy another one soon.
Izzuddin

Malaysia
07/15/2021
Love it
If you want something that feels luxe and looks beautiful this is it! This towel has reduced breakage in my helped my natural texture. It dries fast and looks seriously beautiful in my bathroom.
Low

Malaysia
07/15/2021
Lightweight. Great color and quick
Lightweight. Great color and quick drying
The Anatomy of a Waffle Towel
F L O A T S :
The stuff that gives Waffle towels their unique texture and square design. Usually prone to snagging, we've optimized the waffle size to decrease drying time and minimize snagging.
S M O O T H W E A V E :
Ideal for drying hair, their smoother weave will cause less friction when wrapped over wet hair.
W A R P I N G :
Because of the loose and open weave, Waffle Towels tend to warp when they dry, but not to worry—during use they'll stretch back to form their original shape.