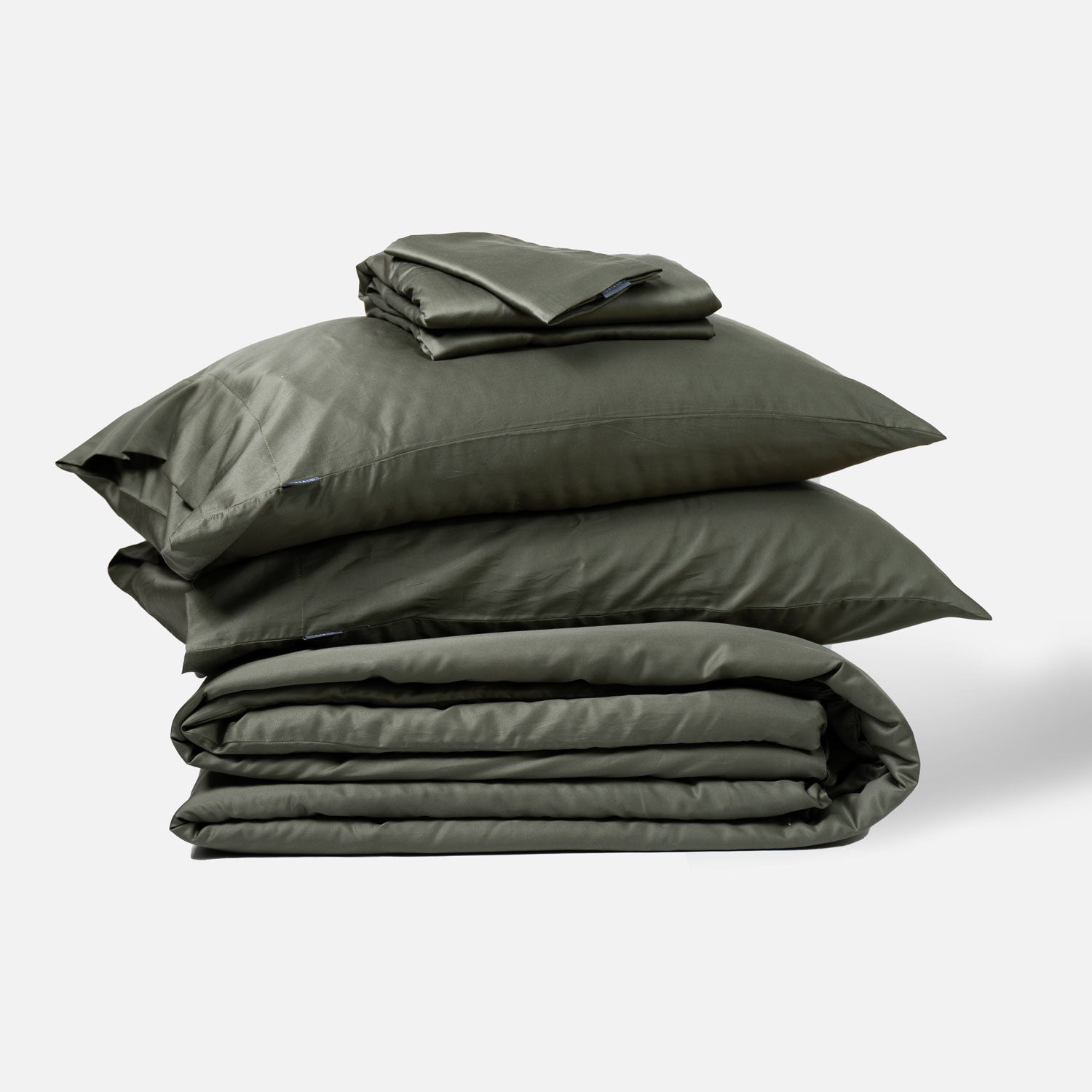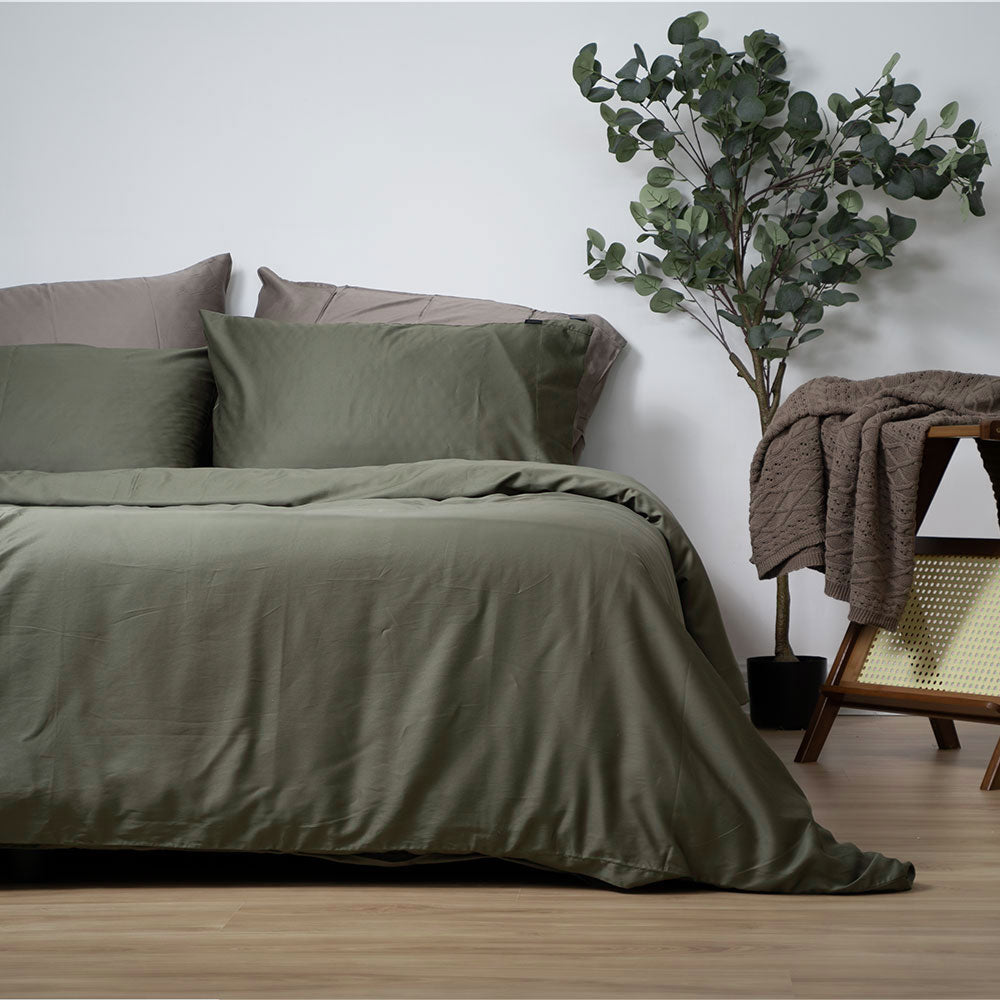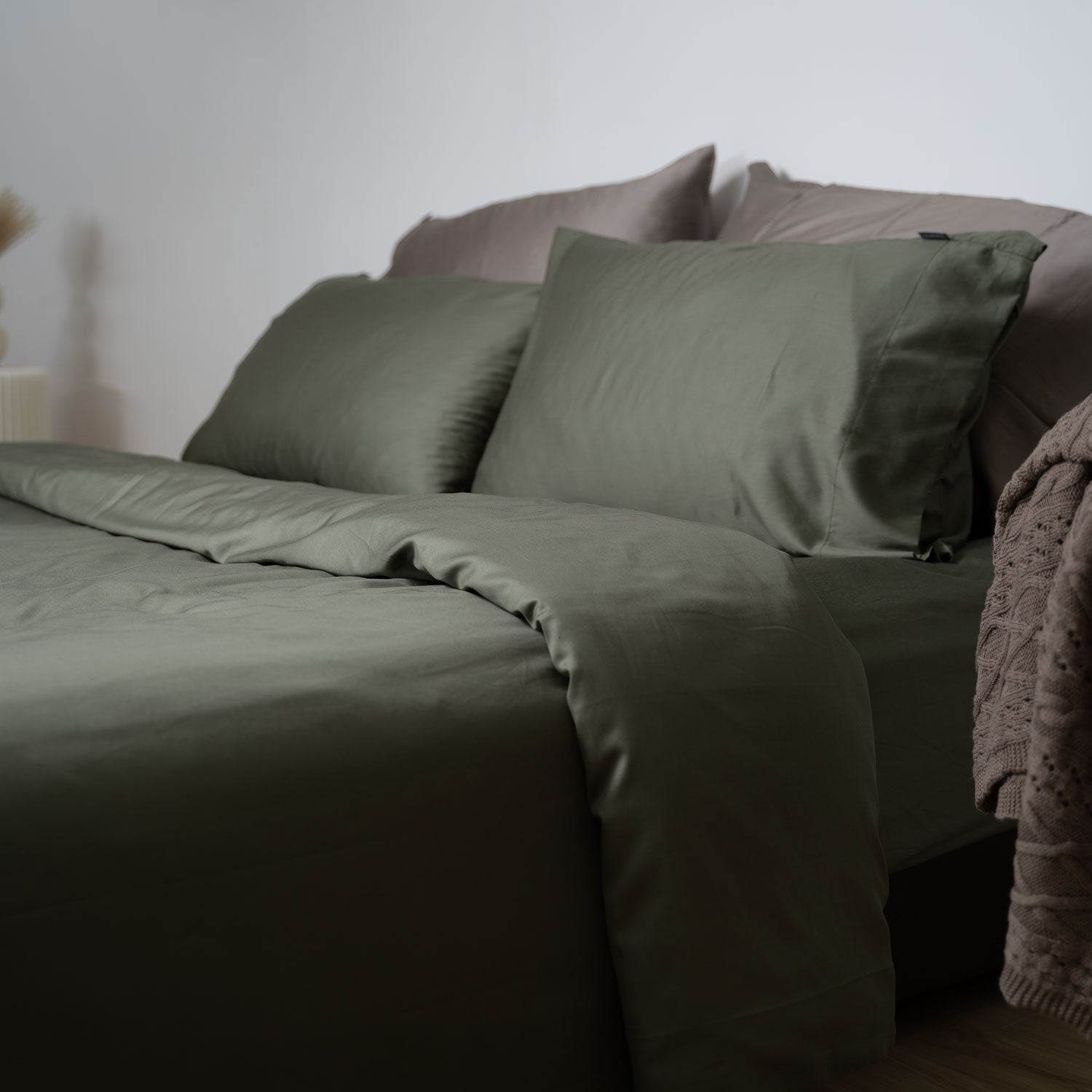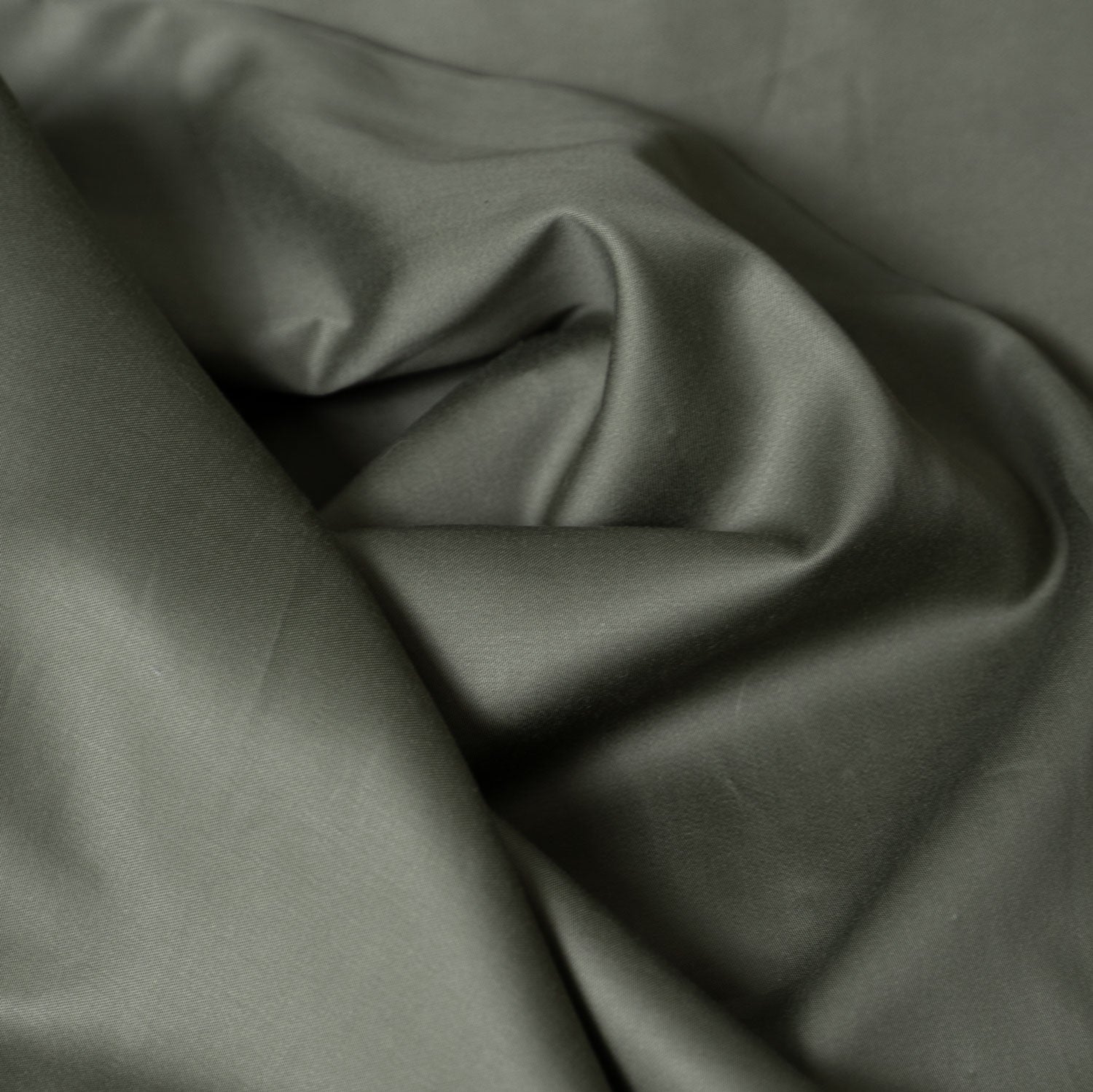 HyperSoft™ Sheet Set – TENCEL™ Lyocell Blend Extra-long staple cotton
Sale price
RM459.00
Regular price
(/)



TENCEL™ LF Enhanced

Perfect Blend with 36% Extra-long staple cotton

Easy to care for and not delicate. Wrinkle resistance and Pilling resistance.

300 Thread-count sateen weave, boasting a silky touch.
Product Details

Materials & Production

Composition: 63% TENCEL™ Lyocell LF/ 37% extra-long staple cotton 
Sateen weave with 300 thread count / 60s (Thread count conversion table)
Tailor-made in MALAYSIA

Design

1 x Fitted Sheet
1 x Bolstercase
2 x Pillowcase *Come with 1 pillowcase in single & super single set
1 x Quilt Cover
(Quilt cover will be include at variant "Option" choose With Quilt Cover)

*Comes with regular packing, add-on 'Gift Box' for an aesthetic packaging.

Size

Single
Fitted Sheet (x1) 90 x 190 cm + 30 cm
Quilt Cover (x1) 150 x 200 cm
Bolster case (x1) 38 x 110 cm
Pillowcases (x1) 48 x 74 cm


Super Single
Fitted Sheet (x1) 107 x 190 cm + 30 cm
Quilt Cover (x1) 150 x 200 cm
Bolster case (x1) 38 x 110 cm
Pillowcases (x1) 48 x 74 cm

Queen
Fitted Sheet (x1) 150 x 190 cm + 43 cm
Quilt Cover (x1) 200 x 230 cm
Bolster case (x1) 38 x 110 cm
Pillowcases (x2) 48 x 74 cm

King
Fitted Sheet (x1) 180 x 190 cm + 43 cm
Quilt Cover (x1) 220 x 240 cm
Bolster case (x1) 38 x 110 cm
Pillowcases (x2) 48 x 74 cm



Super King
Fitted Sheet (x1) 200 x 200 cm + 43 cm
Quilt Cover (x1) 230 x 260 cm
Bolster case (x1) 38 x 110 cm
Pillowcases (x2) 48 x 74 cm

*Size difference with your mattress? Contact Us now, we accept custom-made size

 
Wash & Care

Care & Use

First wash in cold plain water
Machine wash gentle / Hand wash
Max 30°C (86°F)
Line dry in shade
Do not soak over 15 minutes



(Tip: Fold immediately after drying for a crisp look without the iron.)
Store in percale envelope included for easy identification.

Buying Tips

We recommend 2 sets as a great place to start if you live solo or with a partner.

3 Sets is preferred if you're lax on doing laundry.
(1: On the bed, 1: In the hamper, 1: In the linen closet)

TENCEL™ Certification
Choose options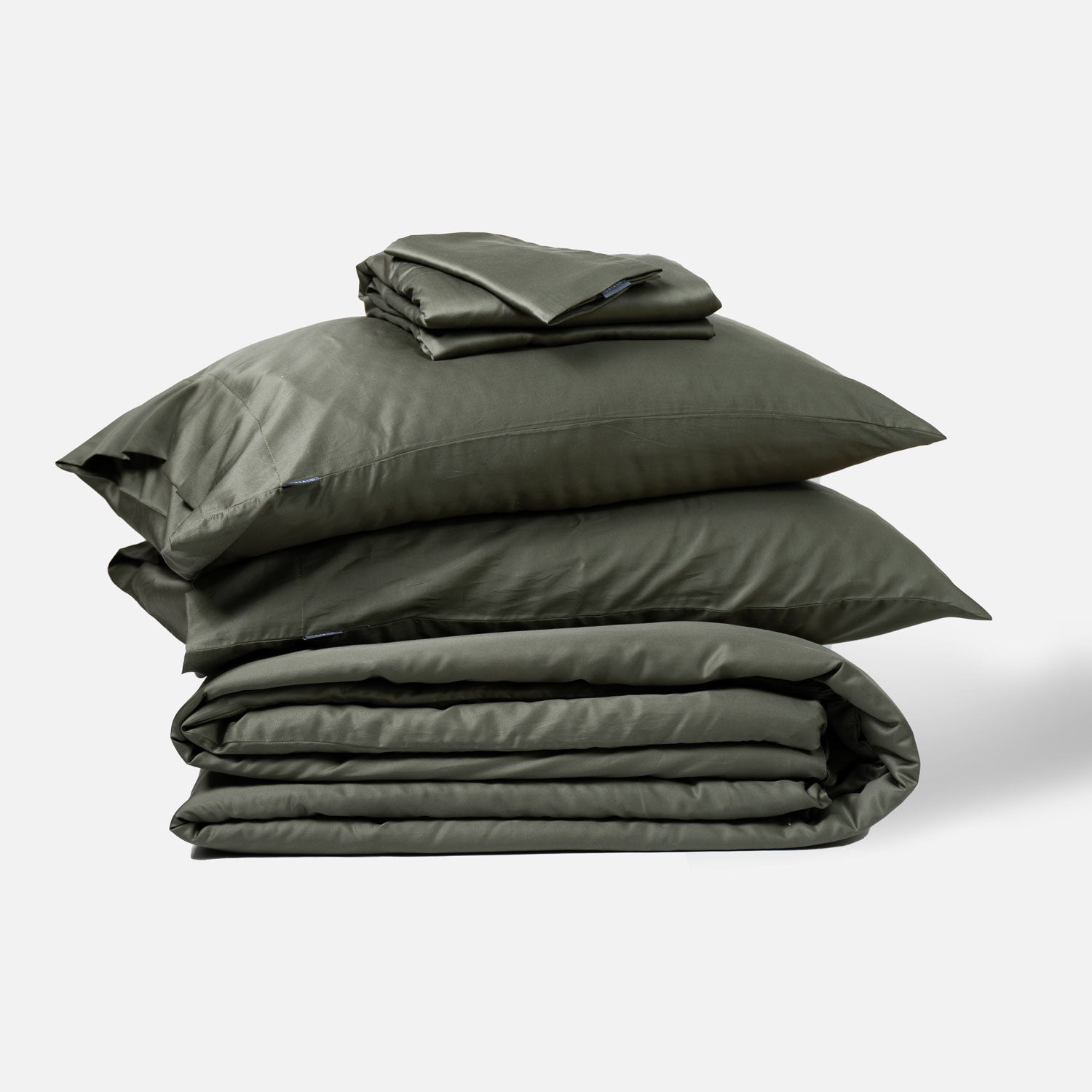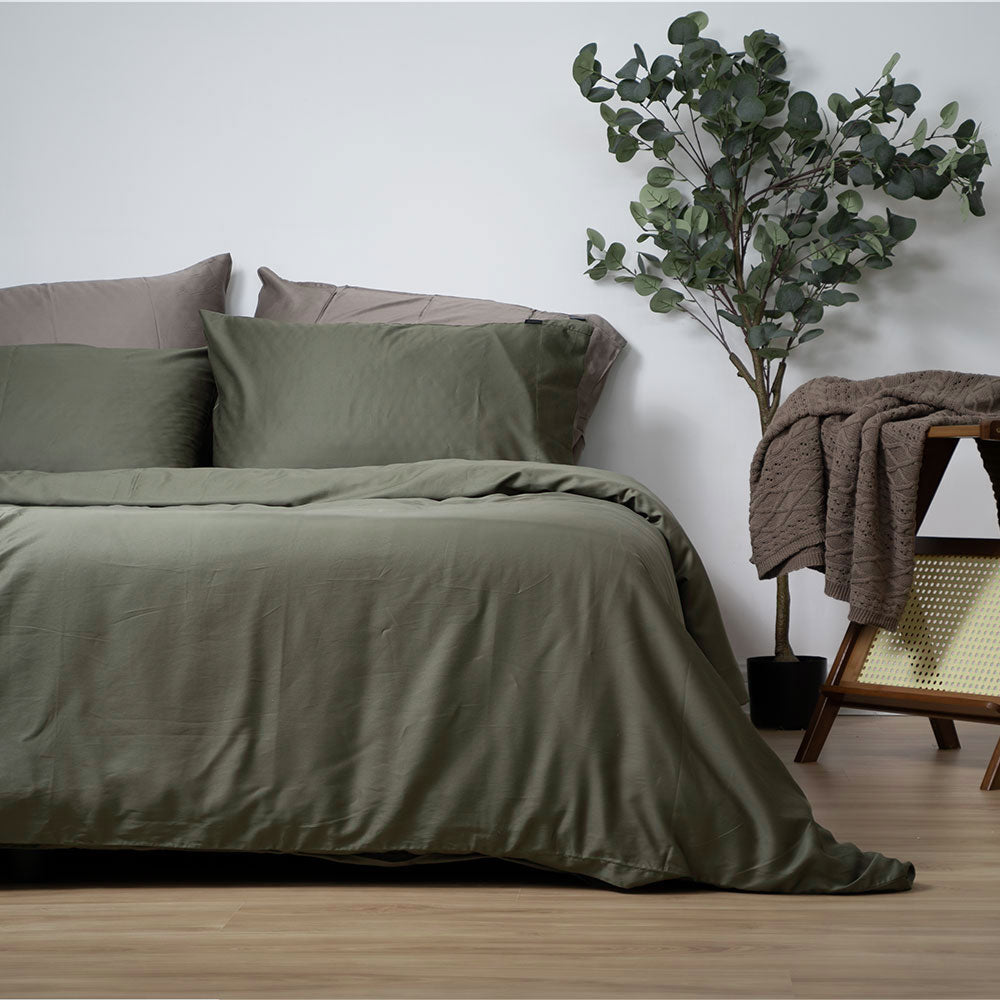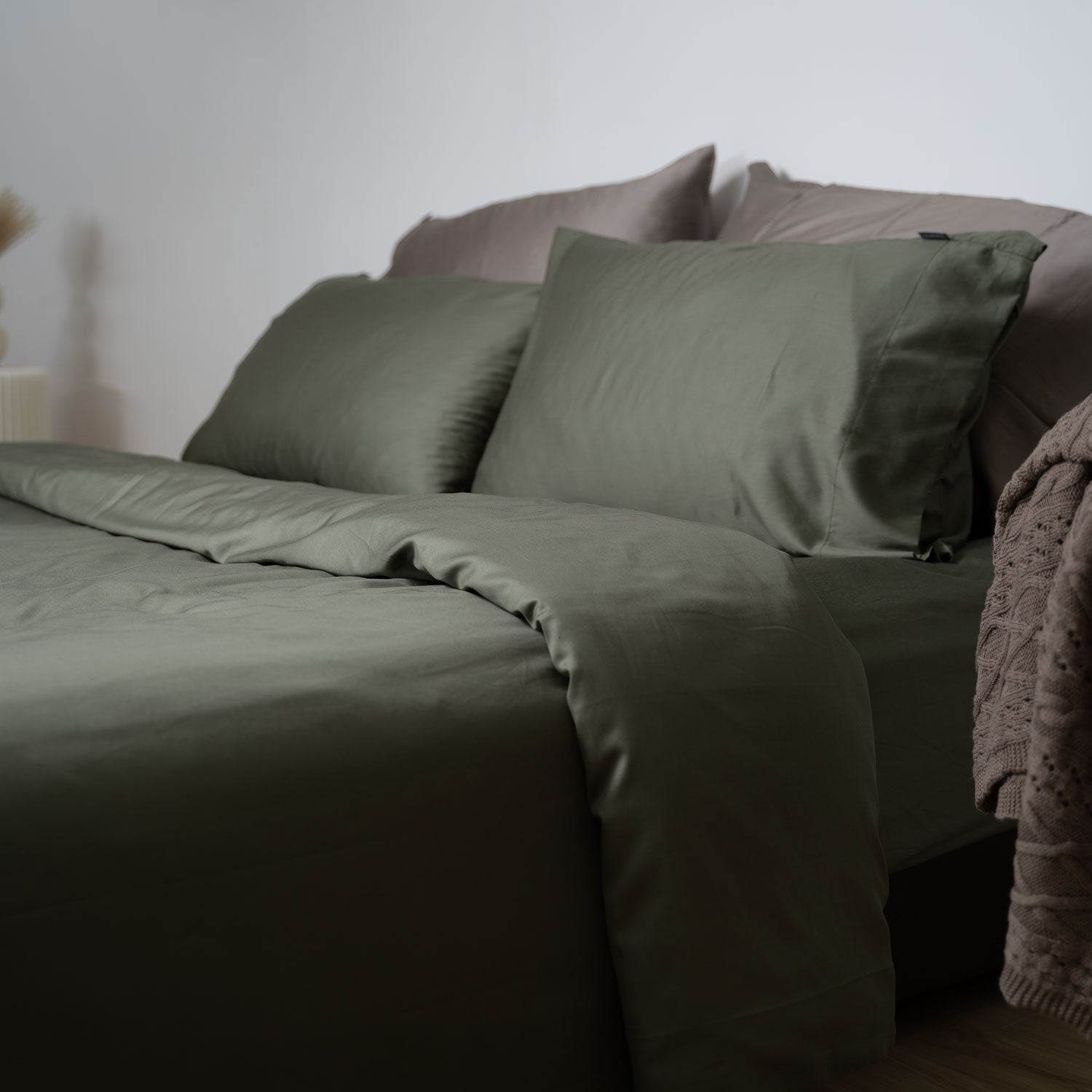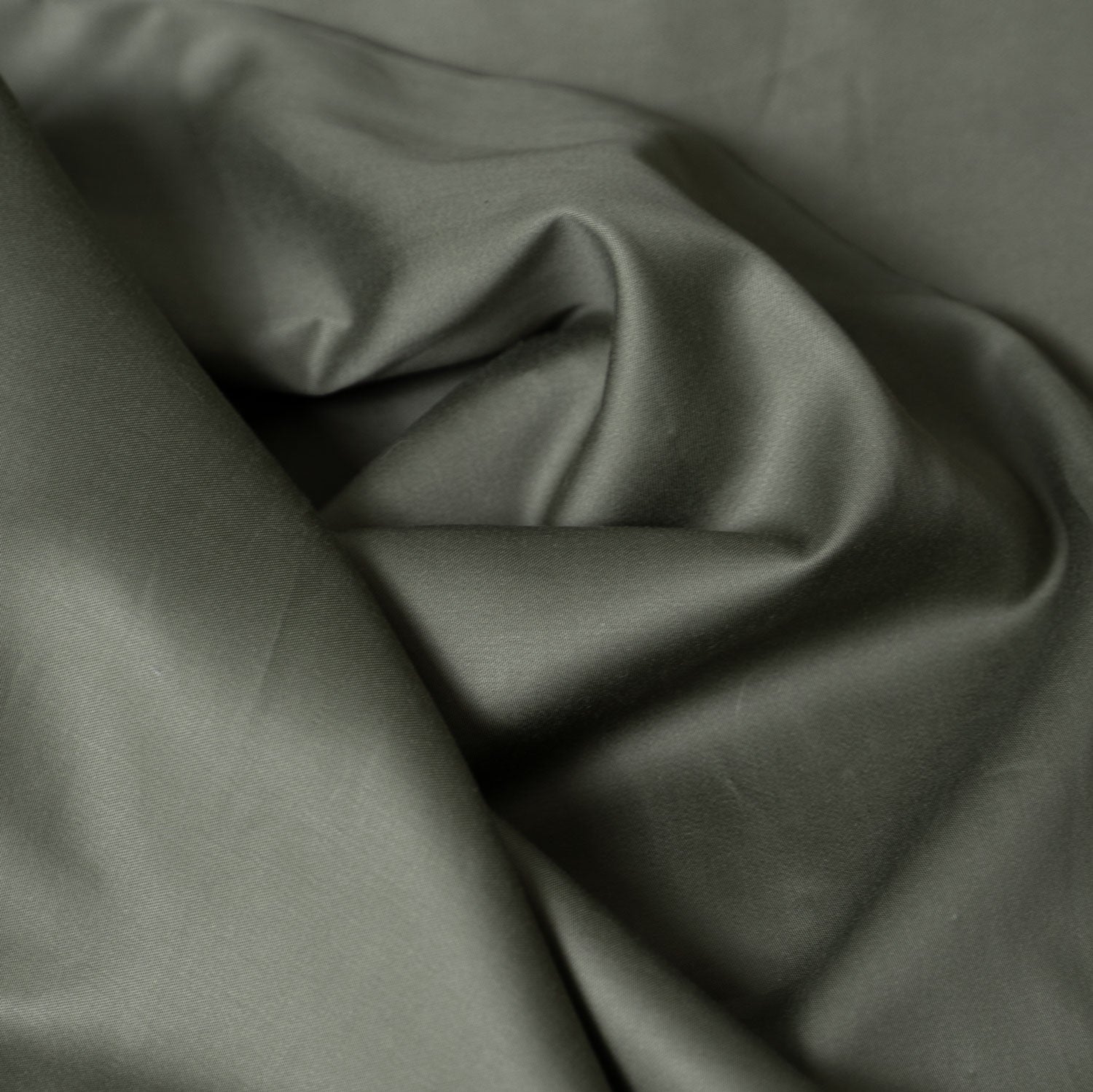 Organic Materials
Perfect Blend with 36%
Extra-Long Staple Cotton
Responsibly Crafted
We've personally tailored this through our own hands in Malaysia
Breathability
Superior softness that
won't overheat when snuggling
OEKO-TEX certified
Our fabric has been independently tested for harmful substances according to strict global criteria
★★★★★
" Before I purchased this sheet I would get so hot at night which made it very uncomfortable to sleep. I cannot recommend this comforter enough, it is a total game changer and if you are thinking about getting one, do it!! It is worth every penny!!! "
Did You Hear? We're Great
Yeah, you could say we've got the people talking. Visit our Press page
to check out all the good stuff they're saying.
Effortlessly Cooling Bed Sheets
Crafted with a Tencel fabric using a one-over-one-under weave, these sheets offer enhanced breathability, ensuring you can bid farewell to those uncomfortable night sweats.
Sustainable and you-friendly materials
Using fabric made from TENCEL™ Lyocell fiber supports our sustainable mission. TENCEL™ fibers produced by environmentally responsible processes from the sustainably sourced natural raw material wood. We chose fabric made from TENCEL™ fibers because it is cleaner and better for the planet than traditional fabrics.
Tested from every Angle
Certified OEKO-TEX® STANDARD 100 our TENCEL™ Lyocell Blend Extra-long staple cotton honors your well-being and the planet.
What makes our thread quality unmatched ?

We don't rely on thread count to determine quality. Thread count is simply a measurement of threads per square inch of fabric. We invest in thread quality by using the finest organic materials, weaving our threads with the utmost care, and finishing our threads without harsh chemicals.
Transparency at Every Step
Thoughtful Design
We've designed our sheets with you in mind.Made from high-quality natural fabric , our sheets are designed to ensure improved durability, comfort, and breathability.
Organic Textile Dyeing
Our products have undergone rigorous testing for harmful substances and have been found to meet the stringent requirements set by this globally recognized certification.
Cutting and Sewing
Our expert tailors cut and sew the thread meticulously, perfecting every detail to meet the highest standards.
Transparency

Our entire manufacturing process is outlined in detail, because you deserve to know exactly how our quality products are made.
Are you still looking the highest Thread Count Sheets?
When looking for the perfect set of bed sheets we've all been sold the thread-count myth: The higher the thread-count,
the better the sheets. There is a lot of misinformation out there about it.
View more